Aid doesn't have to end in the hospital.
Now it's easier than ever to keep track of your treatment plan and improve your health literacy. The MO app organizes your health data and treatment plan into easy-to-use and simplified segments catered to you and your needs. See your long-term plan, look back at your medical information, or play activities to improve your understanding of your condition.
Knowing more, feeling better.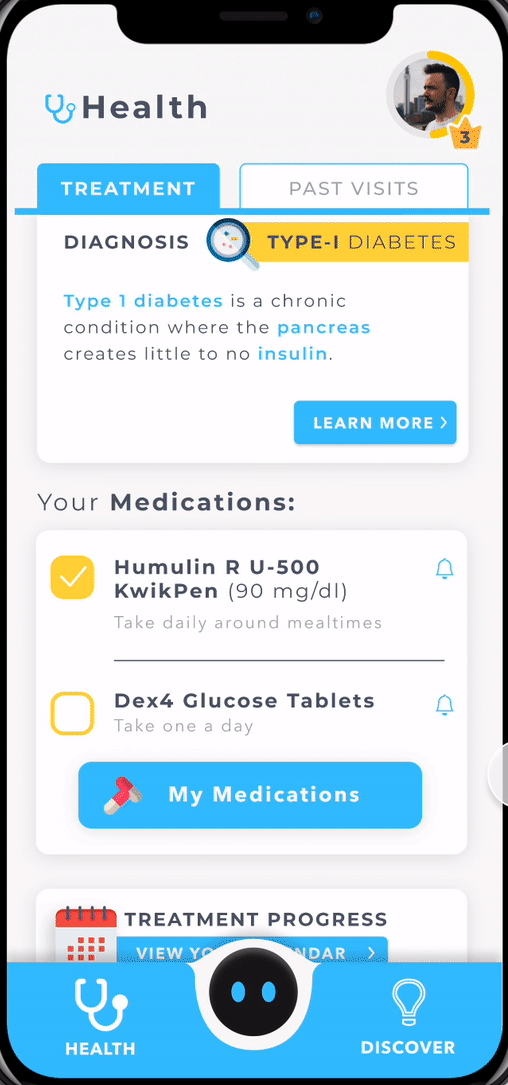 Your health is critical. And the MO App gives you all the tools you need to prioritize it. On your phone, you can manage your treatment plan, create reminders, and see how consistently you're meeting your treatment plan.
Managing your treatment plan is no longer a chore
Understand your medications and why you take them
Understanding your medications and their purpose is crucial for your health improvement. The MO App provides easy-to-understand descriptions and examples for your medications and their purposes. On your phone, you can view your medication, their purpose, and learn more about the components they affect.
Skip the hurdles of medical jargon
Learn about your diagnosis without having to navigate the complex language of the medical world. The MO app provides catered descriptions of your diagnosis, causes, and treatments.
Medical jargon and concepts can be complicated and boring. With the MO app, you can play activities, read articles, and improve your health literacy. Don't worry about scouring the internet for relevant information, the MO app caters activities and finds articles that are relevant to you and your condition.
Your personal healthcare assistant wherever you go
Finding medical information is hard and having your questions answered is even harder. In the MO app, MO is there for you whenever you need them, answering your questions and offering you the best care at the touch of a button.